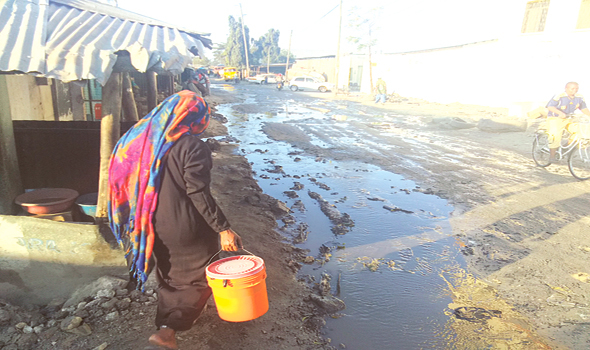 Dar es Salaam. The World Health Organisation (WHO) has warned that efforts to contain cholera, which has killed over 200 people in Tanzania since last August, may not bear fruit soon unless there is a major overhaul of sanitation systems.
The WHO representative in the country, Dr Rufaro Chatora, told The Citizen in an exclusive interview that the government's efforts to control the disease must include the repair of sanitation systems.
The envoy's remarks come at a time when Tanzania has documented more than 13,000 suspected cases of people with the water-borne disease.
Dr Chatora suggested that the ongoing efforts by public health authorities to halt the spread of the bacterial disease must go in tandem with investment in overhauling sanitation systems and educating the public on basic hygiene practices.
"It is still difficult to stop the resurgence of new cases of people with cholera under the current state of sanitation in most rural and urban areas," he said, adding that it might require more time—perhaps months—and more investment in sanitation improvement to be able to tame the outbreak.
He told The Citizen in his office in Dar es Salaam that WHO had until recently spent over Sh2 billion in assisting the government to tackle the outbreak, but warned that there was still risk of the disease continuing unabated if proper hygiene was not observed.
"Authorities will need to ensure that the water that people drink is clean and safe. Water must be treated with chlorine,'' he noted as he revealed that most cases of cholera were caused by unhygienic water sources in the country.
A report issued late last year by the UN Resident Coordinator, Mr Alavaro Rodriguez, said there were many illegal connections to the public water supply system that were unprofessionally installed with many leakages.
"This presents the threat of germs, including Vibrio cholera. Ensuring adequate safe water to effectively control the outbreak therefore remains a major challenge,'' said the report. According to WHO protocols, areas such as Kinondoni in Dar es Salaam would be declared cholera-free zone if no cholera case was reported in at least 14 days.
However, that will not be the case any time soon as new cases of people reporting to health facilities with cholera symptoms continue to emerge in neighbouring districts of Temeke and Ilala and other areas across the country.
Dar es Salaam, despite being named by the World Bank as among Africa's fastest growing cities, still harbours squatter areas, with a large section of the population living in conditions that put them at risk of suffering from cholera and other diarrheal diseases such as typhoid and amoebiasis, reports show.
In the past one week, two people died of cholera in Temeke District. That was after the district had remained without any report of the suspected case for more than 14 days, according to information obtained from the Municipal Health Officer Michael Muhemu. "Cholera is a behavioural disease. If people don't adjust their behaviour in terms of hygiene, we still have a long way to go in controlling the occurrence of cholera,'' said Kinondoni Municipal Health Officer Mathias Kapizo.
Health Deputy minister Hamisi Kigwangala said recently that the government had already deployed teams of experts to the most affected regions, including Simiyu, Mara, Morogoro, Manyara, Singida, Arusha and Mwanza.
The government has tried, at one point, to consult WHO on tackling the disease through countrywide mass vaccinations with the Oral Cholera Vaccine (OCV), but the efforts did not bear fruit.
According to WHO officials, the vaccines against cholera are still restricted for use in humanitarian situations as was the case in refugee camps in Kigoma, where the agency supplied 164,500 vaccine doses to avert a major cholera outbreak among refugees.
"There is a global shortage of oral cholera vaccine. About than 6 million doses of the vaccine are expected to be produced globally. You see now that you can't vaccinate all Tanzanians, over 45 million. That's not cost effective,'' Dr Chatora told The Citizen.