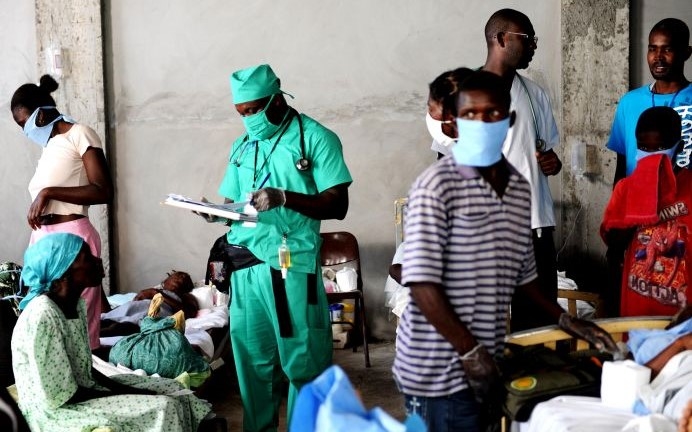 A cholera outbreak in the Rukwa region that started on 15 November 2017 has officially been declared over following a ban on all fishing activities on Lake Rukwa and the introduction of quarantine measures.
The outbreak lasted for 108 days, during which nine people lost their lives in Sumbawanga District in the Lake Rukwa Basin.
The disease was first noted after two fishermen died at Muze village. The two were part of a group of fishermen who were expelled from Kichili fishing camp in Momba District
The most affected wards include Mfinga, Kalumbaleza, Muze, Mwadui and Mtowisa along the Lake Rukwa Basin.
Since then, an article published on the Daily News newspaper on 9th of April quoted Sumbawanga District Medical Officer (DMO) Dr Fani Mussa as saying that measures taken to address the cholera outbreak have worked well, and subsequently the disease has been 'fully controlled'.
Therefore the question is, has cholera been fully controlled in Rukwa?
Results
PesaCheck has investigated the claim by Dr Mussa that the outbreak of cholera in the Lake Rukwa region has been fully contained, and finds it to be PARTIALLY TRUE for the following reasons:
According to the World Health Organisation (WHO), 4,985 cases of cholera were reported in Tanzania in 2017, with 99 deaths. The number of cases as well as geographical spread of cholera was reduced compared to the previous year, with 14,547 cases and 225 deaths reported in 2016.
The Tanzania Ministry of Health deployed a national rapid response team to Ruvuma Region which reported cases for the first time at the end of November 2017.
A total of 33,421 cases of cholera were reported across all 26 regions of the Tanzanian mainland and Zanzibar from 15 August 2015 through to 7 January 2018, with 542 deaths confirmed.
86 per cent of these cases were recorded in the mainland, and children under five years old accounted for 11.4 per cent. Following the outbreak, over 7,000 specimens were tested for cholera, and 47 per cent were positive for Vibrio cholerae.
2017 also saw the resurgence of cases in Kigoma, Manyara, Dodoma, Mbeya, Dar es Salaam, Ruvuma and Rukwa regions, which also reported cases of cholera during this outbreak, reflecting the persistent risk of a cholera upsurge in many other regions in the country.
With this cholera outbreak, the government responded by closing fishing camps and banning all fishing activities carried on Lake Rukwa to control the spread. Three fishing camps at Kipa, Matete and Kamchinga were destroyed, and medical centers were also established to accommodate and treat cholera patients.
Rukwa residents still depend on the lake for water, and it has not been ascertained if there are enough pit latrines to serve the population, which is an essential measure to prevent transmission of cholera.
Until measures to curb the spread of the cholera such as adequate hygiene and ensuring that drinking water is boiled take hold, it is likely that transmission of the disease will persist, meaning that we are likely to see new cases being reported in Rukwa and neighbouring regions.
Credits
This report was written by PesaCheck Fellow Kiki Otieno, a data journalist based in Tanzania, and edited by PesaCheck managing editor Eric Mugendi. The infographics are by Eunice Magwambo, a Kenyan graphic designer, visual artist and digital content producer.