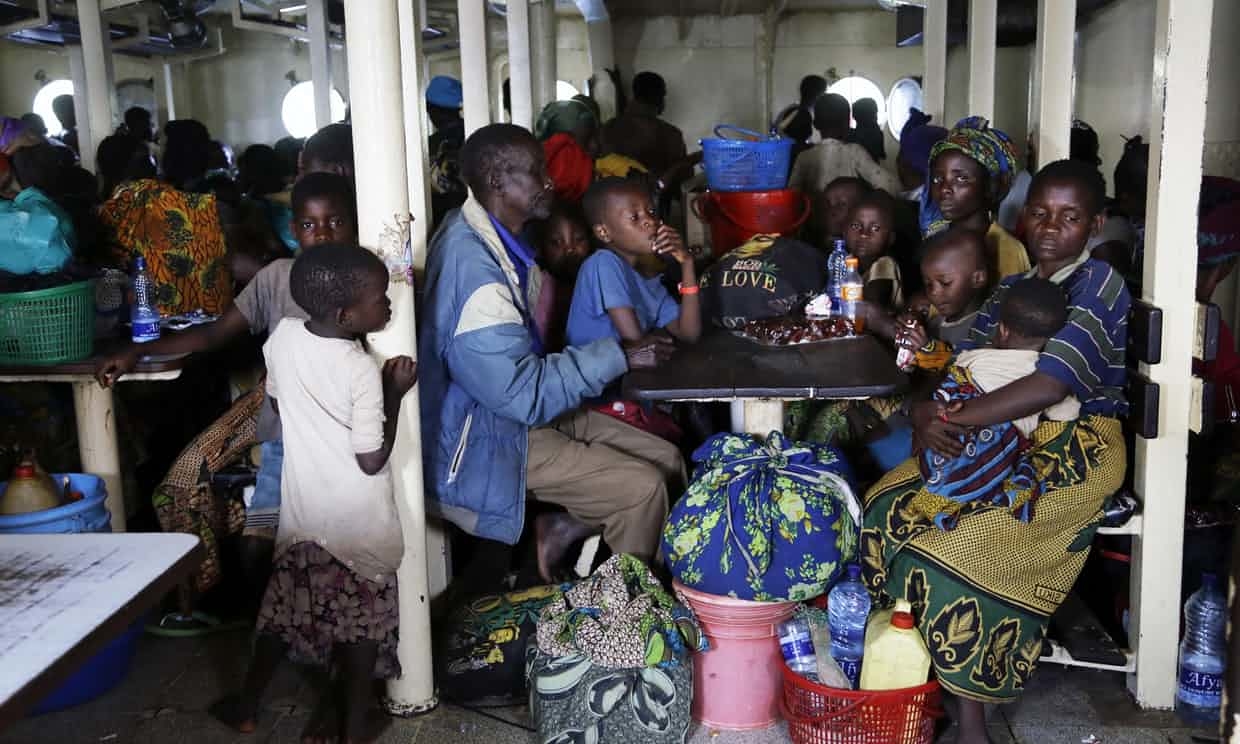 Barantiriza Deudeone did not want to make the same mistake as his parents. He was one of the first to sign up for the grim voyage across Lake Tanganyika and into the mushrooming refugee camps packed full of fleeing Burundians in neighbouring Tanzania.
"In 1997, during the civil war, my father and mother said they would not leave. They had survived the war in 1972 and told us there was no reason to run. They were both killed. I could not wait for the same fate and will never go back. If we die here, that is fine."
The political crisis in the small east African country of Burundi, sparked by President Pierre Nkurunziza's bitterly contested decision to run for a third term, has translated into a growing humanitarian crisis, with more than 100,000 men, women and children fleeing from what they describe as a campaign of intimidation by armed Nkurunziza supporters.
The Democratic Republic of the Congo and Rwanda have taken in scores of refugees, but it is the lake port of Kigoma on the western tip of Tanzania that has seen the greatest number of arrivals.
Thousands of villagers have trekked for days to a UN-run, cramped holding camp in the Burundi-Tanzania border town of Kagunga before boarding the MV Liemba, a century-old German ship that has ferried refugees into Tanzania during each of the country's deadly bouts of conflict over the past three decades.
A cholera outbreak in the holding camp where the refugees are cleared for entry into Tanzania has claimed 31 lives. The World Health Organisation said this week that the situation appears to be improving, but the risk of transmission remains high. Aid agencies warn that far more help is needed to avert a bigger catastrophe.
About six in 10 of the refugees are women and children, all trying to get onto buses transporting refugees to a bigger camp inland.
Many of the women clutched small charcoal-powered stoves known as jikos, while men carried transistor radios.
"The predominant emotion among them is fear and tiredness," says Aimee Brown of Oxfam. "Many have walked for days and weeks and fear what will happen to them if they go back. The key thing they need now is water and clean water vessels to beat the threat of disease."
Burundi experienced a 12-year civil war from 1993, which claimed around 300,000 lives.
Protracted negotiations led to the signing of a peace accord in 2005, with Nkurunziza nominated as president. Opponents accuse the former rebel leader of tightening his grip on power and indulging his appetite for amateur football instead of improving the lot of citizens.
Nkurunziza was expected to stand down this year after serving two terms but a decision to contest the election due in June – despite pressure from regional leaders, the European Union and the UN – has sparked weeks of protests in which at least 20 people have been killed.

Many of the refugees who spoke to The Guardian at the Kigoma stadium – a 20,000-seater football arena that has been taken over by hundreds of civilians – said the death toll from the crisis was far higher than has been reported, especially in rural Burundi, where there are few independent journalists.
"They kill people at night and in the morning you just see blood," said Innocent Kuguimana, a 34-year-old farmer. "Nobody knows where they take the bodies. Two of my friends were killed in the last two weeks."
All the refugees blamed the Imbonerakure, a feared militia allied to Nkurunziza's ruling CNDD-FDD party, of being behind the campaign of killings.
The militia is primarily composed of youths, who made up the ranks of the rebel group that later turned into Nkurunziza's political party. It has been accused of carrying out a relentless campaign of intimidation against government critics by Amnesty International.
A leaked April 2014 cable to UN headquarters described efforts to arm the militia to fight government opponents and warned that the Imbonerakure was "one of the major threats to peace in Burundi and to the credibility of the 2015 elections as they are responsible for most politically motivated violence against opposition".
Clutching his small transistor radio, Joseph Msihoku Mbugayo, a 65-year-old father of six, said the climate of menace created by the roaming bands of party supporters had made life unbearable.

"They go from house to house saying our sons must join the war against opposition supporters or die."
The regularity with which people have been forced from their homes and livelihoods have left many vowing never to return.
Neema Minani, a 23-year-old mother of two sons, said she could not bear the thought of tilling her field to take care of her young family and then losing everything due to political conflict.
"I am a young person but I have fled my country twice. The UN is a big agency. Let them give us farms in another country so we can build new lives."
Women and children have been given first priority to escape the difficult conditions in the holding camp on the Burundi-Tanzania border. The first priority for many families when they arrive at the larger sea of faded brown canvas tents and claustrophobic aluminium shelters at the Nyarugusa camp is to trace friends and family.
Odisto Nyandui, 30, said he was desperately looking for his wife Elizabeth Nyasabandi, and their four children.
Like almost everyone interviewed, he vowed never to return. "These people in Bujumbura care about power and nothing else. They will never change. I have to find a new life elsewhere."